Google Reader's move from active product to Google Hospice caused a great mix of despair at the loss of a great tool and hope for the future. Without a highly-functional but traditionally oriented market dominator, RSS will finally have a chance to grow up and be everything Reader users never knew was possible.
I'm a big Reader users and I'm going to continue to use it until the last possible moment. I think one place to watch for direction on RSS's rebirth, if they can get their act together, is Yahoo.
Lots of companies make RSS readers that give me my news. Reader is dull and super functional, Flipboard is nine kinds of slick. All of them, though, are on the output-end of an RSS feed. Yahoo Pipes isn't a reader, it's a creator. It consumes RSS feeds, queries web data, parses sites, filters results, and presents it all in any format you want.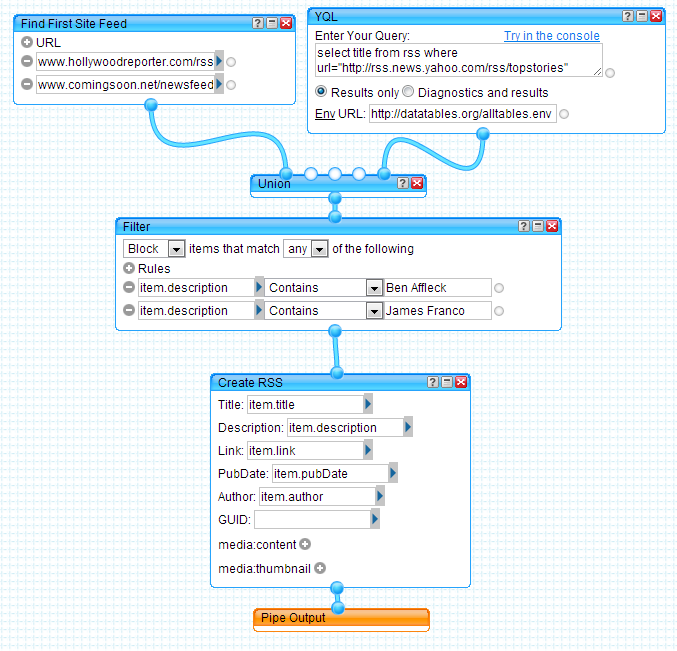 Custom Build My Affleck/Franco-Free Movie News
I can see that as a web page, an RSS feed, query it as JSON, or just about anything else.
Pipes doesn't solve the problem of how to replace Google Reader, because replacing Reader isn't the big problem. How we get news is the big problem. Yahoo and Google both understand really well how to manipulate RSS. Google's taking away a tool that let you read it, Yahoo, for several years, as supported a tool that lets you make it.
Yahoo did a great job reviving a foundering Flickr. If they can get it together, they have everything they need to not just save the news reader, but wholly remake it.